To plant trees is to give body and life to one's dreams of a better world. – Russell Page
Trees can provide oxygen to improve our air quality, climate amelioration, conserving water, preserving soil, and supporting wildlife. Aside from giving color and contrast into the urban environment, it helps reduce the stress of modern life. If you'd like to join the tree planting, register today!
We know we can do it with your help. Let's plant some trees.🌱
For inquiries, call (02) 239-9463 or send us a message.
UTROS Celebrates Nutrition Month held in Cabuyao, Laguna (Community Outreach Program) by UTROS in Philippines July 26, 2019 The nutrition month is an annual [...]

The Blackboard Campaign by UTROS in Philippines July 12, 2019 "Give, even if you only have a little. –Buddha The green painted wood or [...]

Community Outreach with Dumagat Indigenous People of Antipolo by UTROS in Philippines July 12, 2019 Dumagats origin is the same with Aeta's in Northern [...]
admina
Brand Enhancement and Network Expansion Programs by UTROS in PhilippinesMarch 30, April [...]
admina
Working with Out-of-School Youth (Self-Reevaluation Workshop) by [...]
admina
Cinematography workshop by UTROS in Philippines Cinematography [...]
Seek to inspire Inside the National Museum
UTROS at National Museum written by Ella Gasga UTROS exploring at National Museum On March 13, 2019, UTROS in Philippines visited the newly renovated National Museum of Natural History located at the heart of numerous historical heritages in Manila, Philippines.
How modernization influence the youth?
December 27, 2018, UTROS in Philippines Inc. invited a young group of people to join in their youth discussion on the influences of today's modernization in our moral norm. We asked this young group "How modernization influences their way of life and our moral norms?"
Research Interview
Why rethinking our moral grounds are so important in building a sustainable society? In a research interview of UTROS in Philippines, we gather information about the conflict that humanity is facing nowadays. Different Religious leaders, Spiritual coach and Academic Professors provided an essential contribution by answering questions based on different insights of today's morality – and supporting ideas about Altruism on how to make the world better.
We are open for discussions of all aspects of life to individuals who would like to seek, learn and act through rational thinking and display of ideas.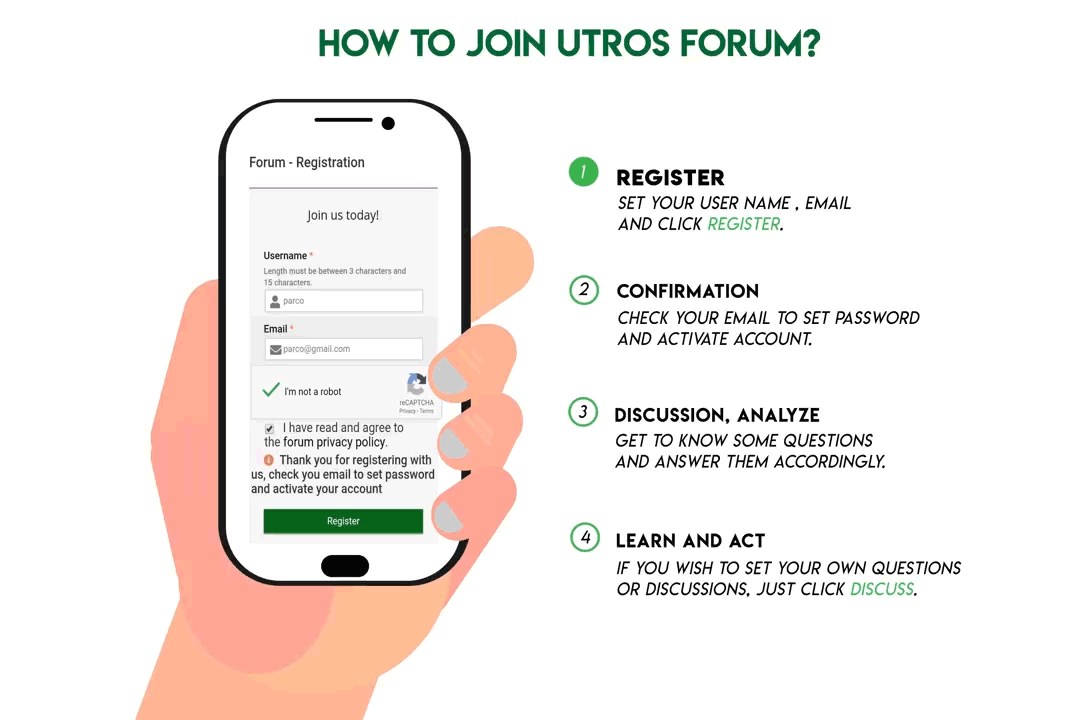 Introduction to Altruism: a task for the intelligentsia
The word Altruism means loving other living beings. Being an Altruist during my lifetime, I was trying to find out what people need to live happily because since the ancient times quarrels between tribes and the people outside have been carried on up until today. Therefore, I put all my attention to the structure of nature where all of those said beings live in harmony as they depend on each other.
People are not aware enough about the secret motives if their daily actions. Now, they have lost contact with nature and do not find any more time to reflect about the real basics of their life. This book describes the way I discover how essential Altruism is. It will also try to give the readers an insight about the teaching of many religions.
Be a Member or Volunteer at UTROS
Our mission is to improve the lives and extend awareness towards sustainable development. If you are willing to be a member or volunteer at UTROS registering online and participating in a volunteer work is easy!